Anti-Inflammatory Drinks for the Summer
What is Inflammation, and Why is it so Bad?
Several years ago, my chiropractor told me many people have inflammation and don't realize it. I thought he was referring to sore muscles, tension, and joint pain. I envisioned people watching TV at night with ice packs on sore body parts. While this might be the case for many, inflammation is more prevalent and destructive than my first impression.
Acute inflammation is the body's immune system reacting to an injury or infection. As blood rushes to the injured or infected area, causing heat and swelling, the immune system is on guard to protect the injured cells. Scabs on a cut or black & blue bruising are examples of acute inflammation. Ordinarily, this is a positive reaction unless there is continuous inflammation in the body.
Chronic inflammation is like a slow burn, where the body's immune system attacks its own cells. This condition produces free radicals, the cell damaging molecules. Eventually, the immune system becomes destructive to the cells it was intended to protect. For example, eating sugar is like adding fuel to a small flame, creating a bonfire.
How does inflammation affect the body?
Studies are finding links between inflammation and depression, Alzheimer's, anxiety, autism, heart disease, obesity, autoimmune diseases, cancer, osteoporosis, leaky gut, digestive issues, and many other neurological and psychiatric diseases. In general, the immune system is working overtime and eventually attacks itself. When the immune system (good warriors) continues to fight chronic inflammation (bad warriors) eventually the immune system is weakened, allowing chronic infections and diseases to take over.
Inflammation is a big topic and I could go on forever on this. Trust me, chronic inflammation is not a good thing.
Check out my recipes for 2 anti-inflammatory drinks that are tasty and refreshing.

Join my Women Entrepreneurs Health & Nutrition Community for more tips. https://www.facebook.com/groups/707342530028680/?ref=bookmarks
Click Reply to this email to set up a FREE 15 minute call.
I am here to help you learn what your body needs to gain energy and focus, AND to feel good in your body.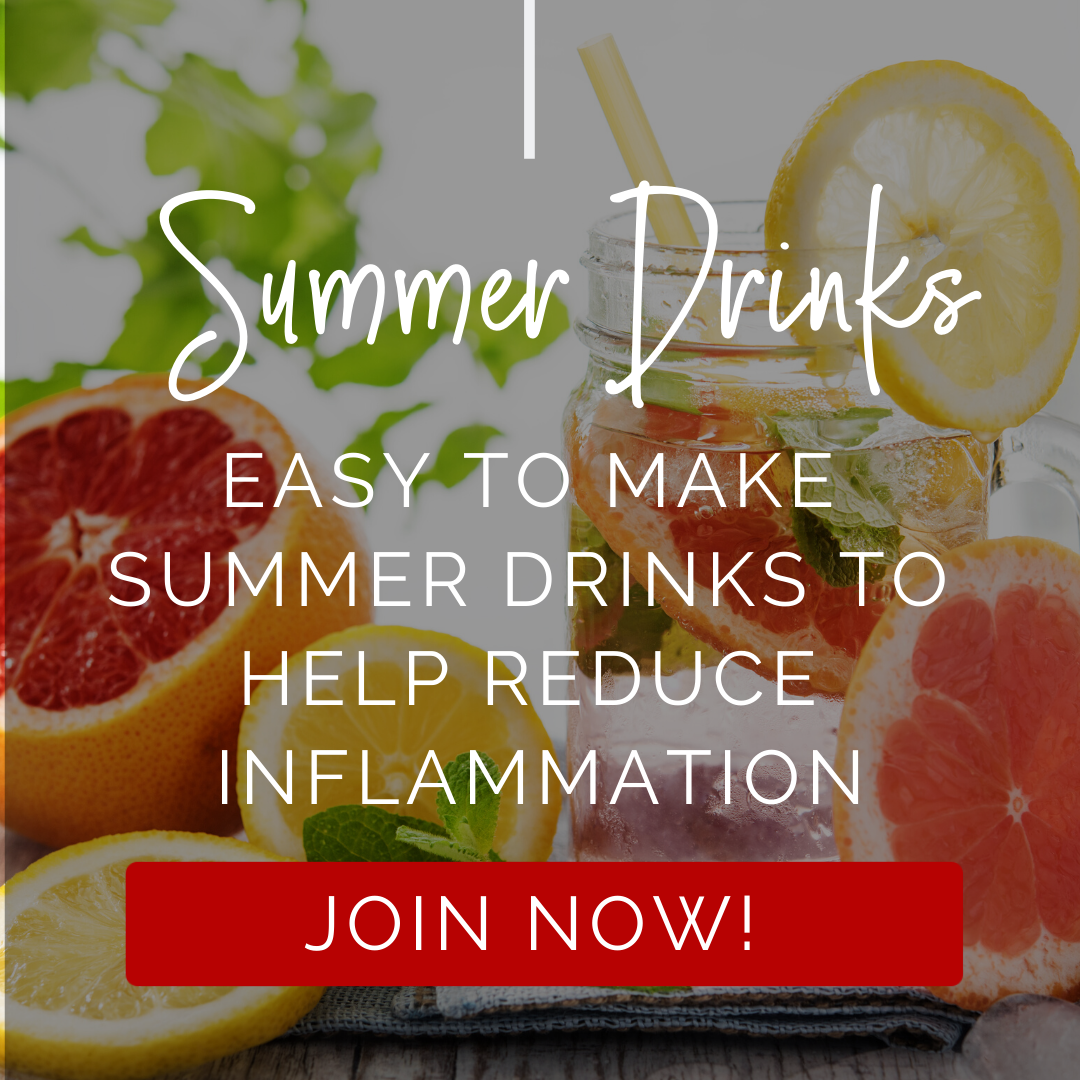 Orange Mint Fizz
Juice of 3 large oranges
(you can also substitute 2 large grapefruit, or use a mix of both)
Juice of 2 limes
1 bunch mint leaves
4 cups plain sparkling mineral water

1.Add citrus juices and mint leaves to a large pitcher, then use a wooden spoon to crush the mint leaves a bit down to the bottom.
2.Fill pitcher with sparkling water.
3.Pour the fizz over ice in 4 to 5 glasses, garnished with more mint or citrus fruit slices if desired.
SPICED ICED TEA2 tablespoons chopped turmeric root
2 tablespoons chopped ginger root
3 organic lemons, cut into quarters (skin on)
8 cups of boiled filtered water
1.Add all ingredients to a large heat-safe, BPA-free pitcher.
2.Cover, then steep until it reaches room temperature.
3.Transfer to your fridge. Allow to steep for up to 24 more hours (at least 12).
4.Strain, then sweeten with maple syrup or honey to taste. Store in the fridge for up to 7 days.
Hop on over to my Facebook page for more tips:
https://www.facebook.com/PeggyEnnengaCertifiedHealthCoach/


Nutriance Organic Skin Care
Nourish your skin with this awesome system that works for me!
Nutriance Organic 3 Step System helps you reclaim youth every single day! This Age Defying Cell Activation System harnesses the synergistic properties of the Nutriance Organic line, in 3 simple steps to fight the causes of aging, revitalize stressed skin, reinforce natural defenses against aging & renew cells to visibly restore skin's youthful look.
KEY BENEFITS
• Rediscover the healthy, resilient, glowing skin of your youth, and keep it looking younger, longer, with Nutriance Organic – Your Age Defying 3-Step Solution!
• Provides protective nutrients, antioxidants and phytonutrients (polyphenols and carotenoids) that help moisture retention and cellular renewal.
• Exclusive marine botanicals from brown, green and red seaweed which deliver protective nutrients vital to nourish, soothe and boost skin vital functions, help to assist skin cell renewal and the elimination of toxins and rich in minerals and trace elements to energize the skin.
For more information on NeoLife whole food supplements, skin care & toxic free cleaning products, click here for delivery right to your door AND to save money
Contact Me peggy@healthcoachmt.com
I help women entrepreneurs who want to get healthy so they have energy and focus to do what is important to them AND to feel great about themselves.
I created a back to basic program with simple steps to feel nourished, find your sparkle and THRIVE!
Are you ready to make a change?
I am here to help!
Contact Me if you have any questions at all about my simple and "NOT BORING" programs.
Peggy@HealthCoachMT.com
Check out my free Facebook group
Women Entrepreneurs Health & Nutrition Community
https://www.facebook.com/groups/707342530028680/

Aging doesn't have to be a taboo.

You can age beautifully and gracefully and still have energy for the entire day without coffee or supplements.

Learn the main factors that can quicken or slow down aging both inside and out. . .

And get practical tips that you can implement TODAY to start aging beautifully.
This quick e-book is just what you need.